Book of the Month
Every month, Calvary highlights a helpful resource to encourage spiritual growth and obedience. Every book that we suggest has been read and vetted by our pastor and is made available (free of charge) with copies for you to take home on our resource table, or to check out from our church library. Stop by and pick up a copy today!
The Gospel according to God
by John MacArthur
Isaiah 53 has long been called the clearest articulation of the gospel as found in the Old Testament. This single chapter in Scripture details not only the reality of Messiah's suffering, but also what Messiah's suffering accomplished. This little book is an in depth exposition of this blessed chapter. May the Lord bless the exposition of His Word!

- Pastor Andy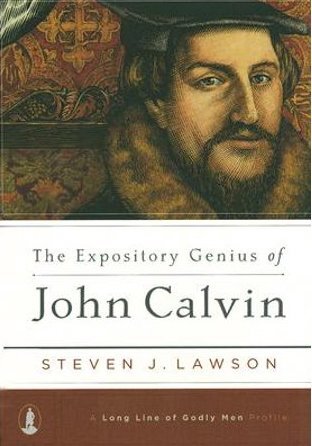 "The Expository Genius of John Calvin"
by: Steven J. Lawson
As we reflect upon the impact and eternal blessing of those who sought to reform Christ's church from the darkness of Rome in the 16th century, you will find this little book to be informative, enlightening, and encouraging. The impact of Calvin's ministry continues to bless the saints to this day.
- Pastor Andy
"FAmily Worship"
by: Donald S. Whitney
If the church is built upon the same foundation as the family, and if the church is called to worship our great God, then it is imperative that we are worshiping together as families. This little book is so helpful in rediscovering the simple act of family worship. Read a full review here.
- Pastor Andy
"Counseling One Another: A Theology of Interpersonal Discipleship"
by: Paul Tautges
To be a Christian is to be part of a body of other believers. Spiritual growth is not an individual event but is cultivated, encouraged, and developed in the context of the body. This helpful tool reveals the necessity and the process by which we grow together. Read a full review here.
- Pastor Andy
"A Gospel Primer for Christians"
by Milton Vincent
This gospel is not only a message for conversion. The truths of God's sovereignty, man's sin, Christ's salvation, and our submission are truths that affect every minute of every day. This wonderful work reveals and implements that beautiful reality. Read a detailed review here.
- Pastor Andy
A Method for prayer: Freedom in the face of God
by: Matthew Henry
This rich work from the well-known puritan author defines and models prayer for the believer. Our prayers are often weak, ineffective, and pathetic. This book will help explain why as well as help create a habit of prayer that is God focused and thus powerful, effective, and God-glorifying. Read a detailed review here.
- Pastor Andy
Sanctification: The Christian's pursuit of God-given Holiness
By: Michael Riccardi
There is much confusion in the church regarding the doctrine of sanctification. It is God who enables Christians to be holy as He alone is holy, and yet Scripture commands Christians to make it their life's ambition to pursue holiness. This is a helpful work that explains the tension and makes clear Scripture's call. You can read a full review here.
Welcome to the Family: What to expect now that you're a christian
by John macarthur
Conversion from spiritual death to spiritual life is as jaring as it sounds. The way we see and interact with the world around us, our friends, and our family will never be the same. This small book is a helpful tool for any Christian who struggles to understand the contrast that has been placed within them from the world around them.
"Shepherding a Child's Heart" by Tedd Tripp
A must of for any parent, grandparent, or parent to be. Tedd Tripp highlights the purpose of childrearing to be an effort to raise a new generation of God-fearers and the method to target the heart rather than exterior behavior only.
"The priest with Dirty clothes" By R.C. Sproul
This is just one of several children's books written by the late reformed theologian. These books aim to teach profound truths to children. A great resource for the family.
"Strange Fire" by John Macarthur
This book evaluates the dangers of the charismatic movement within the church against the clear commands of Scripture. A very helpful resource in understanding what is acceptable worship and what is "strange fire" before the Lord.
"safe in the arms of god" by John macarthur
This is a brief, but thorough study of God's word in an attempt to answer the question, "What happens to babies that die?" A wonderful and biblical encouragement to those who have lost a child.
"hard to believe" by John macarthur
This provocative title underscores the cost of discipleship. It is one thing to claim Christ and quite another to follow Him.
"The heroic boldness of Martin Luther" by Steven Lawson
More than a biography of the famous reformer, this small volume looks at the courage and tenacity that Luther brought to his ministry of Gospel preaching. This is a call for more men with Luther's boldness to stand for the undeniable truth of God's Word.
"He will reign forever: A biblical theology of the Kingdom of God" By michael Vlach
This thorough work begins in Genesis and works its way through the entire Bible in an effort to reveal the thread that runs through all of Scripture: God's coming King and His kingdom.